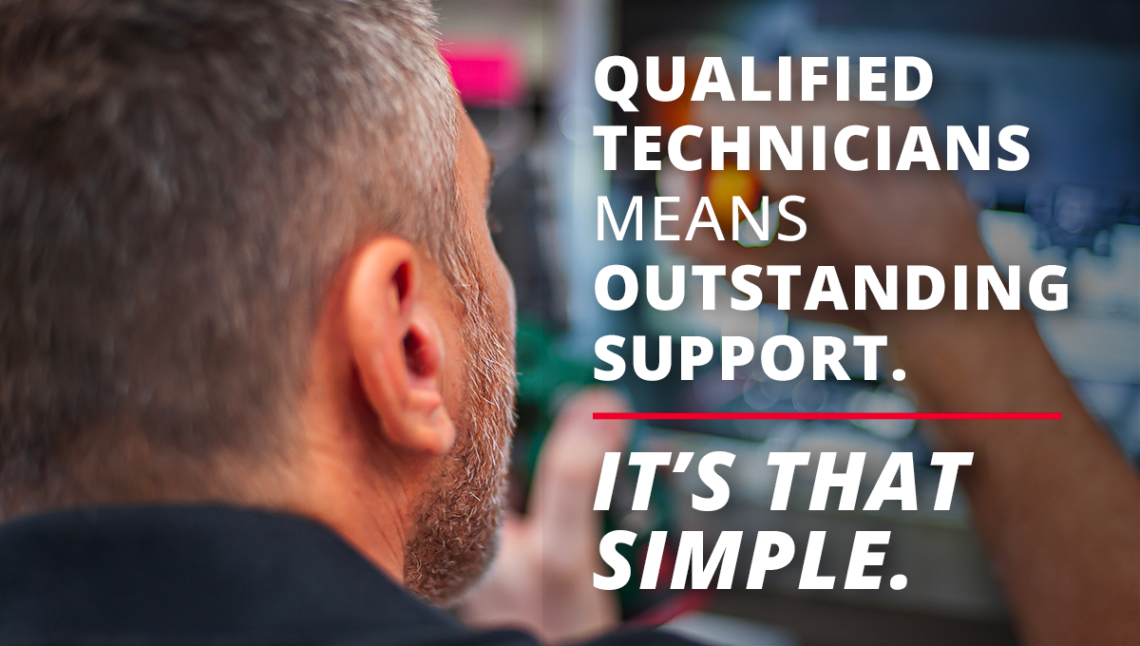 Support Technicians Are Critical to Successful Technology Solutions
The range of technologies that we rely on for day-to-day business operations is broad and growing:  computer and networking systems; cloud services; robotics and other automation technologies; mobile devices; POS solutions; in-house and SaaS software platforms for accounting; CRM; inventory management . . . the list goes on.
Just as there are countless technology tools, there's a nearly endless list of factors determining those solutions' effectiveness.  One of the most essential considerations is support.  Whether it's software, hardware, or a combination of tools, you must have a plan and a partner to help your IT team with routine upgrades, maintenance, and repairs if things go sideways.
In many cases, the critical difference between an effective support program and one that comes up short is the people—the technicians at the heart of the work. Sure, hardware and software are huge factors, so choosing the proper devices and platforms is critical. But configurations, training, maintenance, and fixes all require people.
So, it pays to focus on the people you'll count on to keep things running. That's always been our focus at IntegraServ. We're not here only to help you find technology solutions that solve your biggest challenges—we're here to ensure you have access to professionals who can ensure you capture maximum return on investment from every dollar you spend on technology.
Our customer-first approach includes a deep commitment to helping you boost your productivity and streamline your operations. But you can't do that if your support team lacks the skills to quickly diagnose and fix technology tools that deliver sub-standard performance or crash critical workflows. So, our technicians are thoroughly educated on the latest technologies from all the manufacturers we represent. They go through critical certification processes and receive regular, hands-on training and updates from our manufacturer's engineering and support teams to ensure we can deliver "factory-or-better" support for everything from routine maintenance and upgrades to repairs and replacements.
One of the keys to building a solid group of technicians is experience—there's just no substitute for the been-there-done-that expertise that comes with years of hands-on problem-solving. In fact, the average support technician at IntegraServ has more than 20 years of experience working with customers' critical technology systems.
Jim Yaekel, our Technical Services Manager, has been with IntegraServ for more than 18 years and has been in the IT support industry for 40 years — and that doesn't even include the years he worked as a U.S. Navy electronics technician. Several of our techs have been with us even longer, including Jim McColgan, who has been with us for 23 years, and Bob Williams, who has been here for 20 years.
That's a level of commitment and experience you just can't beat. As Jim Yaekel explains, "We don't have any field technicians that haven't been doing this for at least two decades, whether it's here at IntegraServ or in the industry. Our service team has about 250 years of collective experience in the service industry. There isn't a lot we haven't seen or done."
Another key to maintaining an excellent technician workforce is loyalty, and we go to great lengths to keep the best ones working with us as long as possible. Our goal is to sustain a true team environment that features dynamic challenges and rewards and recognizes individuals for their contributions to our success and—most importantly—the success of our customers.
"For a thirty-year-old company, we feel like a young company that's always being reinvigorated," says Jim Yaekel. "We continue to grow, but our relationships with outstanding customers who recognize and appreciate how outstanding we are allow us to jump in feet-first and swim with the leaders in our changing industry."
Our approach has proven to keep our technicians highly motivated. It has also helped us earn customer testimonials like these:
"IntegraServ has taken the time to understand our business, and realizes the importance of having our equipment up and running at all times; so, they have always been very prompt in arriving onsite to address the problem. Many times, we have been able to call and get info over the phone to help in diagnosing the problem. They are always very helpful!"
—Debbie, IT Manager
"IntegraServ has proven to be the right choice for both our equipment needs and for service. Every  device comes configured for our specific application so we can use it right away. Maintenance is outstanding. These guys really understand how important this equipment is to our business and are extremely responsive when we need help. High-tech company with solid old-fashioned values. I continue to be pleased and impressed!"
—Ben, Director of IT Operations
At IntegraServ, we know that people power the best technology solutions. That's why we're committed to supporting your IT team with highly trained and experienced technicians you can count on for a comprehensive approach to tools, services, and support.