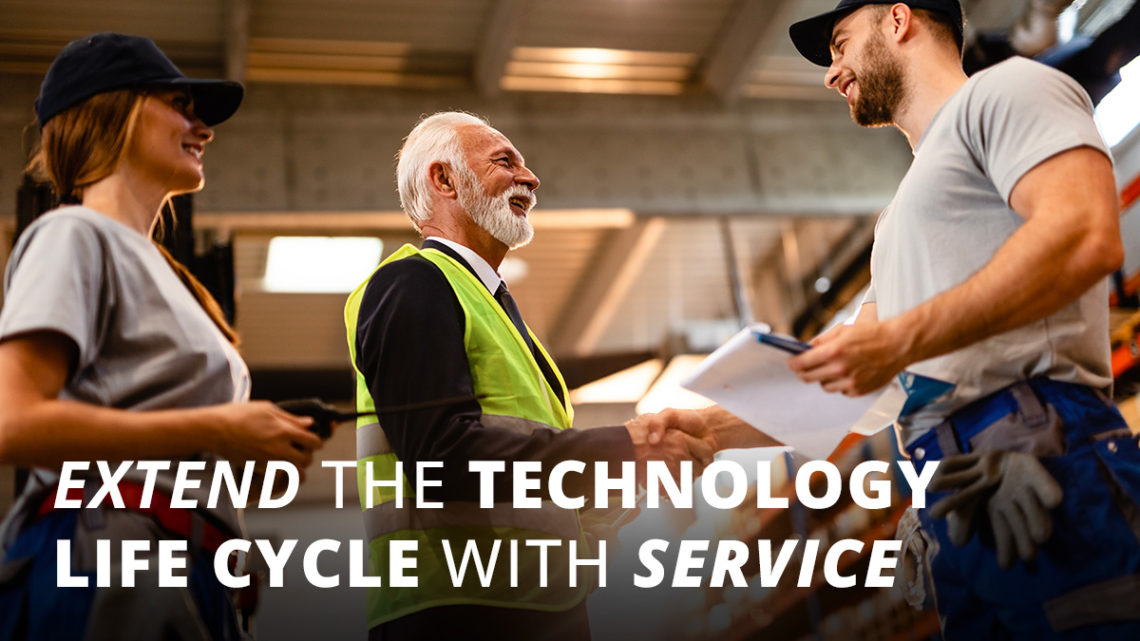 Four Outstanding Service Offerings that Extend the Technology Life-Cycle
Today, there aren't many businesses that don't depend on technology to get through every shift. It doesn't matter if you're baking cakes, manufacturing widgets, transporting turkeys, or selling consumer electronics—the digital revolution that helps you monitor inventory, track production, and communicate with customers requires a foundation of technology tools.
Over time, the nature of technology tools has changed. Forty years ago, it was the "corporate mainframe." Then, the desktop computer, closely followed by networking solutions, email, and the internet. Today, as the digital revolution evolves into Industry 4.0, mobile technology has become essential to operations. But, no matter what the tools are, they're accompanied by another requirement: reliable service and support.
IntegraServ is fortunate to work with a wide range of technology solutions from Zebra Technologies. Many of our customers insist on Zebra barcode scanners, printers, mobile computers, and other devices because they know Zebra hardware is more than rugged enough for industrial applications.
But, even though Zebra engineers durability and lasting performance into every piece of hardware they offer, there's still a need for a reliable solution for updates, routine maintenance, and repairs.
What defines reliable service and support? It's not a one-size-fits-all solution. So, let's briefly examine four solutions that IntegraServ offers.
Installation and Training
When it comes to technology, it's critical to have a solid foundation. That means focusing on installation and training issues from the start, often before new devices even show up. We partner with our customers to customize installation and training based on your specific requirements. Using trained engineers, we'll help ensure systems are properly configured and users receive the level of training required to drive adoption of new technology.
On-Site Repair
Once you have technology in place, you're inevitably going to face performance issues that require prompt on-site attention. If you don't have in-house expertise, you need a reliable partner to help you. Even when you do have internal support, there will certainly be situations that require added expertise. For those situations, IntegraServ offers on-site repair. Our service levels feature a one-hour call-back and a commitment to be on-site within 8 hours or less with experienced technicians who have the factory-approved training needed to get you up to speed quickly.
Depot Repair
When field repairs aren't possible or necessary, our Depot Repair service takes the time and worry off your hands. We'll arrange for you to ship the device to the trained technicians in our repair center, deal with any issues that require attention, and return the repaired device to you as quickly as possible. Every step in the process is tracked and reported to give you full visibility into the status of your equipment at all times.
Managed Service
As your fleet of technology tools grows, it makes sense to plan ahead for service and support. That's where IntegraServ's Managed Services can be your lifeline. We can customize a Managed Services solution to deliver proactive monitoring, system optimization solutions, repairs, and change management services throughout the technology life cycle. Our approach is proven to reduce unplanned interruptions that can upset even the best production operations. It also lets your in-house IT team focus on revenue-generating activities and helps you keep technology in use longer and maximize ROI of your technology investments.
Today's technology solutions offer tremendous benefits in efficiency, visibility, and mobility. But the promise of technology means almost nothing if it isn't working when and where you need it. So, if you're ready for a higher level of reliability, contact IntegraServ to learn more about our service and support options.