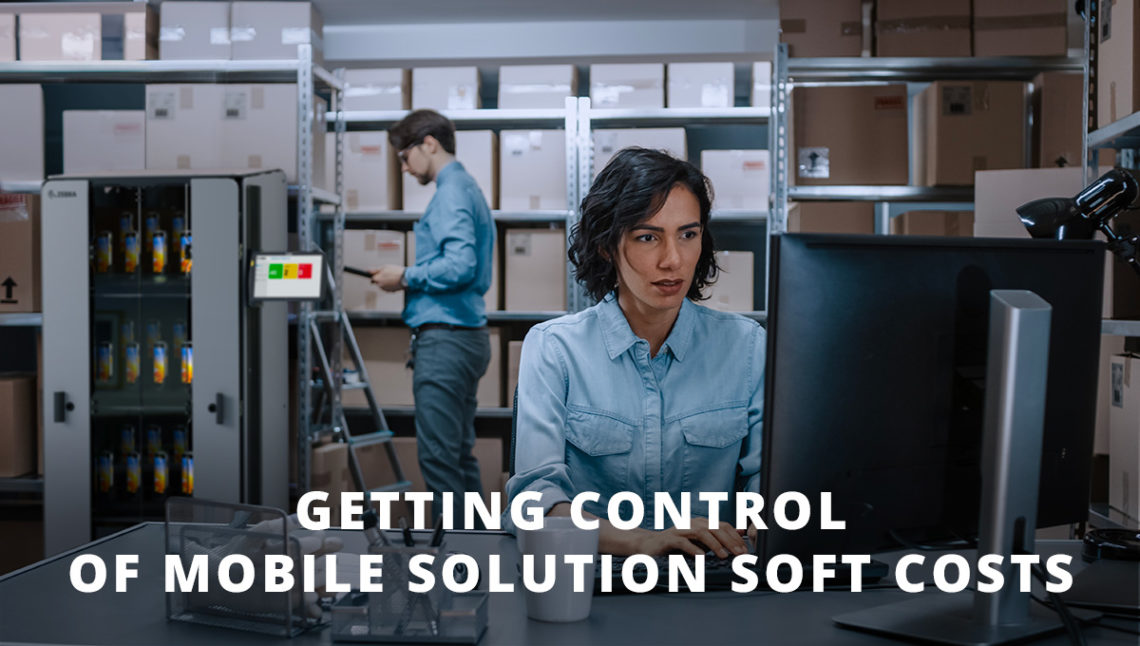 Getting Control of Mobile Solution Soft Costs
Over the past decade-plus, mobile device usage has evolved significantly in all types of businesses as laptop computers, smartphones, and tablets have gone from nice-to-have to must-have tools for workers of all kinds. Today, not just the supervisors and field service staff carry mobile devices. Everyone from warehouse employees and retail associates to frontline healthcare workers and hospitality staff are connected just about everywhere their work takes them.
The need for a connected workforce is driven by the digital revolution that has swept across every industry over the past two decades. Today, whether your business is manufacturing, distribution, utilities, retail, government, or services, you're almost certainly relying on the enhanced connectivity that mobile technology offers to help you increase productivity, collect and analyze data, improve customer service and keep pace with a highly competitive market landscape.
But, as many business leaders have discovered the hard way, there's more to a digital makeover of operations than simply buying and rolling out mobile devices across the workforce. For example, consider a retailer who wants to improve omnichannel operations by streamlining inventory management and improving item-level inventory accuracy. One of their first steps might be purchasing and deploying hundreds of handheld mobile computers and rugged tablets for warehouse, fulfillment, and sales floor operations.
But who will deploy, monitor and support those devices as they roll out across the organization? Many are tempted to think their existing IT staff can absorb the extra workload, but, in reality, the additional burden of managing four or five hundred additional devices can quickly overwhelm an IT team. If that happens, the rollout will often take far longer than expected, and long-term ROI won't live up to expectations.
There's simply no such thing as deploy-and-forget mobile devices.
Configuring mobile devices, charging them for daily use, updating security, monitoring usage, and battery status, are ongoing requirements of mobility solutions. These soft costs may not be as evident as up-front hardware expenses, but they are equally, if not more, critical to maximizing your return on investment over the long term.
So, if you want to capture the benefits of mobile devices, you need a plan for dealing with the soft costs.
In many instances, IntegraServ's Managed Services is the solution to dealing with the soft costs of mobility solutions. Customers rely on our Managed Services to handle everything from initial configuration and deployment to the ongoing well-being of their mobile solutions, including handheld computers, rugged tablets, and mobile printers.
One of the keys to the success of IntegraServ's Managed Services is the depth of experience offered by our service team. With support personnel who average more than 20 years of experience working with customers' technology systems, we offer all the support you need to execute system updates, manage security upgrades, and monitor device performance to anticipate potential issues before they cause operational problems.
Zebra Mobility DNA
As a long-time Zebra Technologies partner, IntegraServ relies on Zebra's mobile computers, rugged tablets, and printers to deliver the benefits of digital transformation. One of the key elements of this value equation is Zebra's Mobility DNA, a powerful suite of intelligent software, apps, and utilities that simplifies device integration and management.
With Mobility DNA built into every Zebra mobile device and IntegraServ's commitment to ongoing support, our Managed Services make it easy to control the soft costs, so you can focus on capturing the benefits of your mobile solutions.
So, if you're launching a mobility solution—or not seeing the returns you expected from your existing mobile tools—consider IntegraServ's Managed Services. It might be the answer you're looking for to maximize your technology investments and allow your IT team to focus on other critical areas of your business.