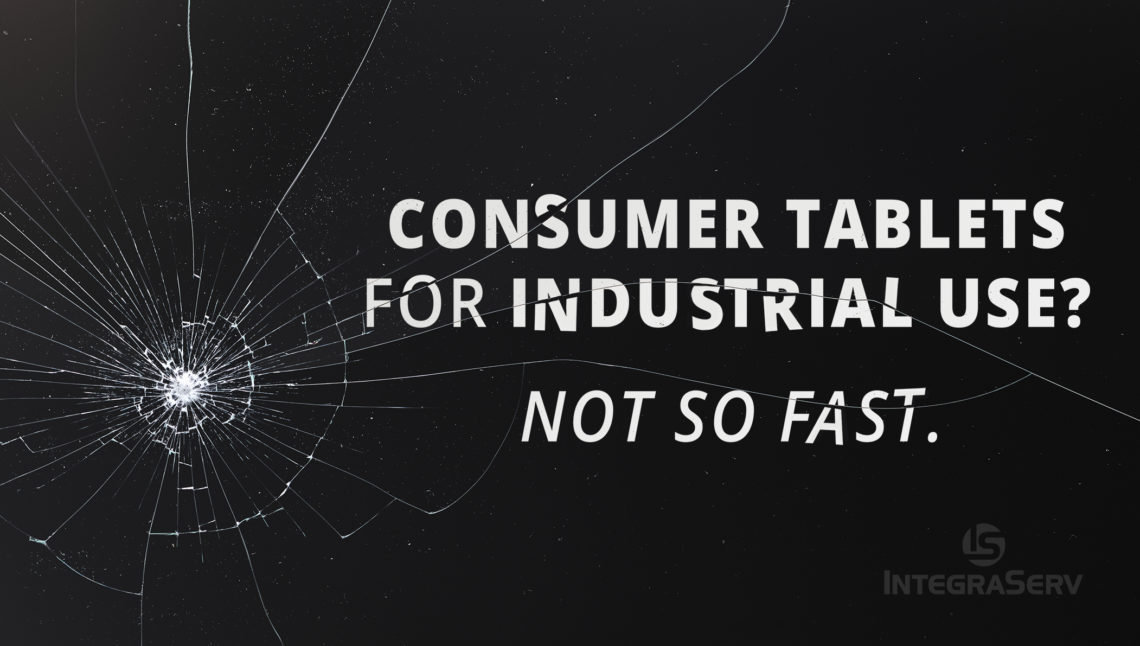 Consumer tablets for industrial use? Not so fast.
It's no exaggeration to say that the digital revolution has reached every layer of operations in almost every industry. Whether you're in manufacturing, transportation, field services, retail—or just about any industry—your workers are inevitably doing more with technology today than they did just one or two years ago. And, when you go back five or ten years, there's just no comparison.
The proliferation of tablet computers is one of the most significant changes we've seen in the past few years, with tablets becoming the preferred mobile device in industrial applications where the large display, touch screen, and added processing power offer advantages over handheld computers and smartphones.
New tablets aren't inexpensive, especially when you need to deploy them in the hundreds or thousands across your enterprise. The expense of outfitting many workers with industrial-grade tablets naturally has more than one IT manager or department head at least glancing at low-cost consumer devices.
The potential for up-front savings may be attractive to decision-makers, but they should focus on the total cost of ownership (TCO) and ask, "Am I actually saving money? Or am I just creating unnecessary headaches?"
To help answer those questions, here are five factors to consider when comparing industrial-grade tablets from a manufacturer like Zebra Technologies versus consumer-level tablets.
Enhanced durability
Zebra tablets are rugged right out of the box; they don't require additional protection to withstand the handling you must account for in industrial applications. They're sealed to protect against dust and moisture, rated for drops onto concrete, and engineered to perform in extreme heat and freezing temperatures. It simply isn't possible to match that level of durability in a consumer device, even if you add a rugged boot at an additional cost.
Simplified device management
Consumer devices aren't designed to make managing hundreds or thousands of devices easy for a small IT team. Routine tasks like setting passwords, configuring access to applications and managing security updates can become slow and unwieldy processes when your IT team must deal with a mixed platform of consumer-level devices. But all those problems virtually disappear if you choose Zebra tablets. That's because every Zebra mobile device incorporates Zebra's Mobility DNA suite of software and device management tools, making it a snap to manage the entire device lifecycle.
Easier staging, storage, and tracking
When you only have two or three tablets to prepare for work every shift, living with the limitations of a consumer hardware platform may be possible. But, when you're managing hundreds of devices, the time involved in staging devices and ensuring they are ready shift after shift can quickly overwhelm an IT department. By sticking with enterprise-grade tablets, you can use Zebra Intelligent Cabinets to simplify the process of storing, powering, and tracking tablets—and eliminate wasted time, lost devices, and unnecessary work delays.
Longer hardware lifecycle
A limited lifecycle and frequent upgrades are hallmarks of the consumer mobile device marketplace. Regardless of the specific tablet, if it's from a consumer-focused brand, you can be sure a new model will replace the tablet you buy today in as little as 12 months. That's great if you're a consumer endlessly chasing the latest group chat image filters, but it's a support nightmare for your IT department because every new model introduces a new set of device management and security variables for them to manage. Device inconsistencies can also present unnecessary challenges for users:  Workers using shared tablets might have to master the nuances of three or four different models in a single week of shifts.
However, the industrial-grade tablets from Zebra are engineered for a much longer product lifecycle. So, the models you buy this year will still be available when you need to add to your fleet of tablets down the road. That simplifies your IT support requirements, makes it easier on your workers, and gives you the maximum return on your technology investment.
Greater barcode scanning capability
If you choose consumer tablets for your workforce, they'll have to rely on the built-in camera and a third-party app when they need to scan barcodes. That's not a big deal if they only scan one or two barcodes daily. But, in any setting where they need to capture more than a handful of barcodes—say, scanning packages in the warehouse or inventorying materials—camera-based scanning just isn't going to keep pace. Zebra, on the other hand, is the industry leader in fast, reliable scanning. So, you'll find a range of Zebra tablets that integrate their industrial-grade scan engine, allowing your team to capture barcodes faster and more accurately, even if the label is damaged.
Considering these factors, the TCO comparison is clear: consumer-level tablets don't measure up to Zebra's industrial-grade tablets. As a leader in business mobility solutions, IntegraServ can help you find the perfect tablets for your business requirements. So, contact us before you decide on consumer vs. industrial-grade tablets.