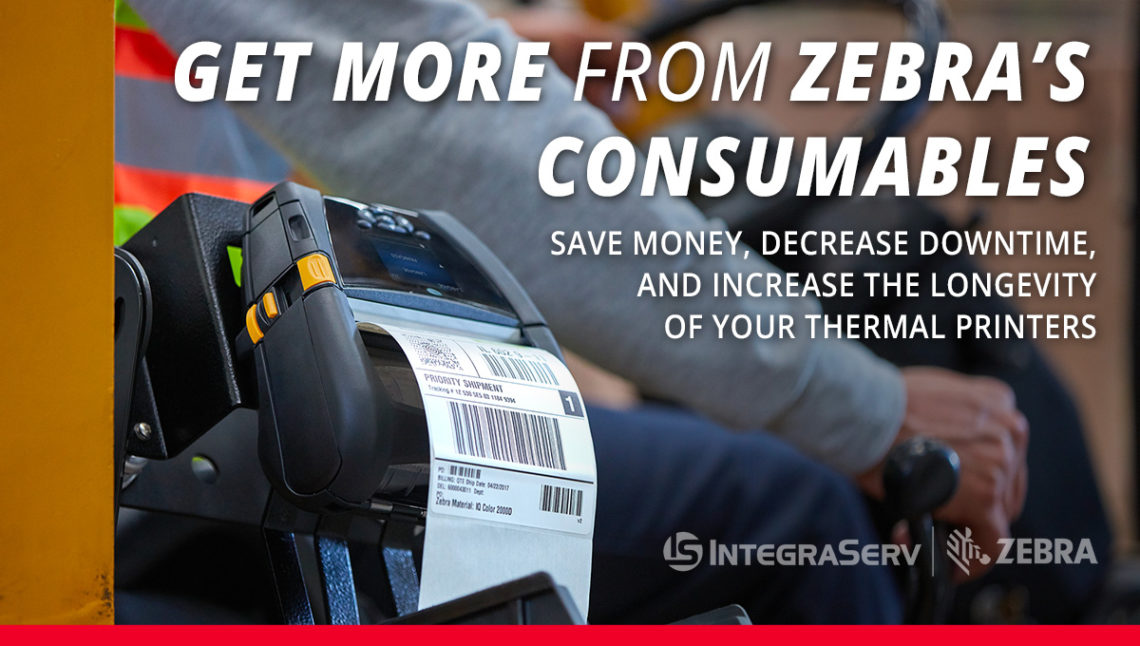 8 Ways Distributors Can Get More from Zebra Printer Consumables
You've undoubtedly heard the expression "garbage in, garbage out." But have you considered how it might apply to thermal printing workflows?
Distributors and logistics operations run through many printer supplies, and it's easy to take things like labels and thermal printer ribbons for granted. Until they let you down, of course. Then, they'll weigh on the efficiency and reliability of the workflows you're counting on to keep orders and shipments moving.
With that in mind, here are eight easy steps to save money, decrease downtime, and increase the longevity of your thermal printers.
Keep equipment and media clean.
Regular maintenance will extend the life of printer supplies. It pays to track print volumes and cleaning schedules. Be diligent about cleaning the printhead after every change of media. Distribution plants offer ample opportunities for contaminants to settle on printers, so keep dust away from the ribbon and immediately remove anything that falls between the ribbon and the label.
Use OEM consumables.
It's tempting to save a few cents with off-brand consumables, but many are poorly made and can reduce the life of your printhead or lead to avoidable printer repairs even if they are considered "compatible." Investing in high-quality Original Equipment Manufacturer (OEM) consumables ensures quality and will keep your printers running at their best.
Store media properly.
For maximum performance, store printer supplies in a climate-controlled closet at room temperature, not in a humid or dry warehouse. For high-volume workflows, keep only the supplies for a few days on hand in the warehouse. Never put damp media in the printer—this can damage and reduce the printer lifespan.
Adjust the printer settings.
Take advantage of settings available on your printer to make the most of supplies. Make sure you use the correct mode for direct thermal or thermal transfer ribbons. Adjust the printhead to use the minimum printhead pressure and darkness (burn temperature) while still achieving good print quality.
Match the length and width of media.
Matching the length and width of your ribbons and labels can save time and money. If you have a 2-inch-wide label, the ribbon should be ¼-inch wider, not 4-inches wide. Try to buy lengths so the ribbon and label run out simultaneously. Each time you change the ribbon or label, you waste a section of media; try to keep this to no more than 10%.
Make sure media is compatible.
Always use the right printer, ribbon and label combination for your application. Direct thermal printing is for short-term use and does not need a ribbon. Thermal transfer requires a ribbon and is a better choice when labels will be exposed to heat or light and must last more than a year. Thermal transfer is also used for printing on a variety of substrates.Wax ribbons can be used for standard printing on paper. Wax-resin ribbons offer a higher quality output that is more impervious to the elements, so use them when the highest quality is needed.
Use standard-size media when possible.
Custom labels are more expensive and can take longer to ship for mission-critical needs, so only use them if necessary. Purchasing labels in stock sizes such as 4″ x 6″ or 3″ x 3″ can be more cost-effective for many operations.
Take advantage of innovations.
It's rarely practical to implement every available upgrade, but new technologies can often be cost-effective if they improve your workflows. For example, when you consider the cost of powering 5- to 10-year-old printers, new Energy Star models may pay for themselves.
The key takeaway is to analyze your thermal printer workflows and avoid falling into the trap of doing things the same way you've always done them. Contact one of our specialists to discuss ways Zebra printer supplies can be optimized for your operations.