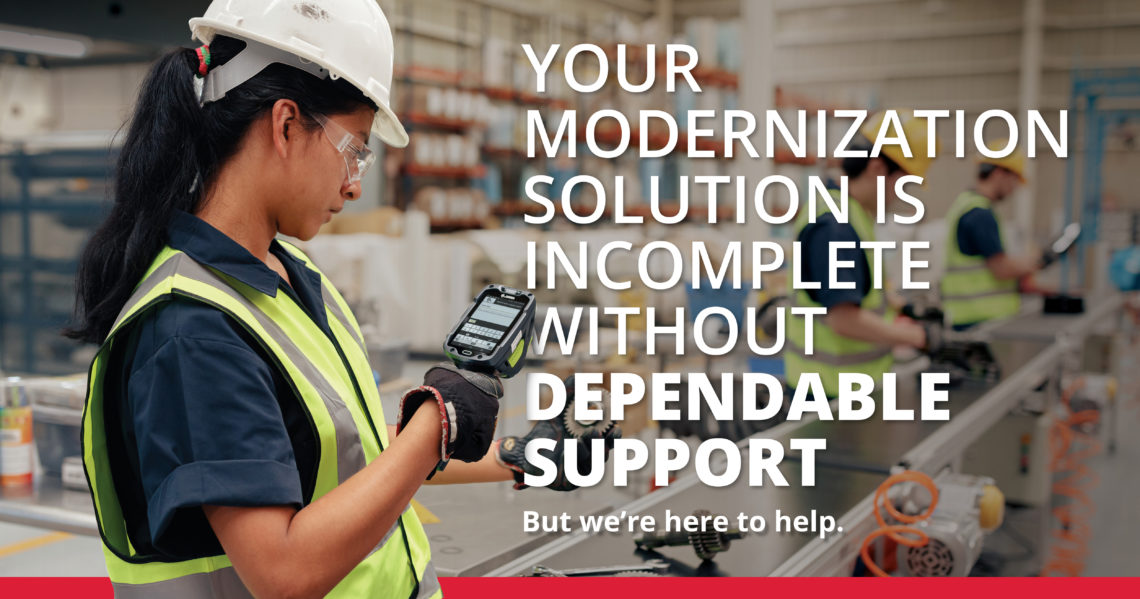 Your Modernization Solution is Incomplete Without Dependable Support Service. Here's Why:
As supply chains become ever more dynamic, automation has become the leading initiative across industries fueling optimization plans. An estimated 73% of warehouses are currently equipping the workforce with partial automation to digitize reporting and accelerate repetitive tasks. Furthermore, in addition to technological advancements, supply chains face many recurrent and new challenges, such as labor shortages, rising inflation rates, and product shortages. These work together to increase the pressure for intelligent automation solutions that augment productivity without overwhelming teams.  As more devices are added to distribution centers, the need for reliable device management services only grows.
Moreover, as warehouses automate more workflows, they also become better targets for cybercriminals. Research points to a 42% growth in supply chain attacks in 2021, affecting nearly seven million people. Simple Mobile Device Management (MDM) plans are not always the most suitable to protect data. Consequently, newer enterprise devices like Zebra's handheld computers combine durability and intelligent OS security to prevent data leaks and breakdowns; however, even enterprise-grade devices need to be serviced and updated. When searching for a superior support service, it is recommended that you search for the following benefits:
General Maintenance Assistance – Assure your devices are ready for use with the latest application updates and proactive network monitoring.
Repair and Spare Pool Management – Increase device availability with faster repair turnaround times and same-day shipping for replacement devices.
Data Security Parameters – Target vulnerabilities in your network and unknown devices to proactively mitigate breaches.
Communication with OEMs – When repairs and new parts are needed, your team should be able to swiftly communicate with manufacturers for less downtime.
Network Configuration – A preliminary assessment of your space empowers you to strengthen weak spots and eliminate dropped signals.
As a committed automation provider, IntegraServ partners with businesses to secure these benefits and more through our Managed Services. By setting up a dependable foundation of support and expertise, warehouses can integrate future-forward, dynamic solutions such as:
Automated data capture
Push-to-talk communication systems
Voice-directed picking
In-motion inventory tracking
Predictive analytics
RFID inventory management
The automated future is full of possibilities. Explore them all with a knowledgeable partner while leveraging best-in-class technologies when you reach out to IntegraServ for a close evaluation of your current plan. From assisted device procurement to systematic rollouts, simplify your modernization solution for around-the-clock efficiency even in the most challenging environments.